Learn How to Convert Your Fireplace Into a Glass Fireplace
Fire Glass & Fireplace Glass Uses
As glass dust is created during shipping, gloves and a mask are recommended during handling.

Rinse glass thoroughly prior to use to remove glass dust.

A 2" -3" topping of glass is recommended.
NOTE: Propane gas does not burn as cleanly as natural gas, some residue or staining may result.  It is recommended to use the darker colors for propane pits and fireplaces. Another option is to use darker colors over the burner, then lighter colors around the edges.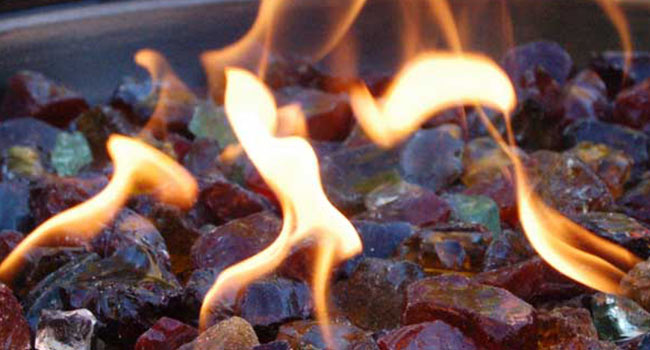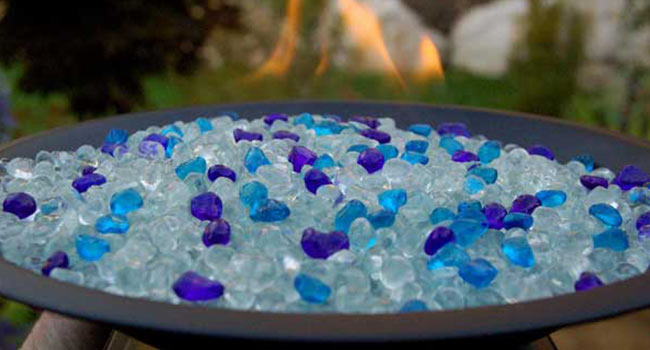 How Much Glass Do I Need for My Fireplace or Fire Pit?
Round Fire Pits for a Depth of 2"
24" Fire Pit requires 50 lbs of Fire Glass
30" Fire Pit requires 75 lbs of Fire Glass
36" Fire Pit requires 110 lbs of Fire Glass
48" Fire Pit requires 190 lbs of Fire Glass
Square Fire Pits for a Depth of 2"
2' x 2' Fire Pit requires 60 lbs of Fire Glass
3' x 3' Fire Pit requires 125 lbs of Fire Glass
4' x 4' Fire Pit requires 225 lbs of Fire Glass
5' x 5' Fire Pit requires 350 lbs of Fire Glass
How to Convert Your Fire Pit

Fill pit with cinder blocks or other filler

Metal pan sized and cut, fire ring on top.

Drill hole for propane or natural gas line

Hook up propane tank and place in tank holder - Contact us at My Fireplace Glass 888-406-6822

Fill with striking recycled glass from My Fireplace Glass
Simple, Easy, and Perfect for Your Home